Night, A Wall, Two Men by Daniel Keene
---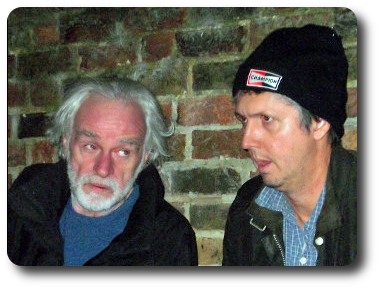 Two nameless, homeless men live on the streets with only each other as companion. Hand-outs barely keep them going day to day. The men meet, as is their habit, but the wall where they meet isn't the only wall they face. As they bicker and reminisce they reveal very different attitudes to their harsh reality.
Daniel Keene's play is bleakly funny, and lit by the surprising dignity and humanity of life on the edge of survival. Expect the harsh idiom and unlikely humour of life on the streets. Sometimes uncomfortable but always truthful, it's very much a play for right now, right here.
Dónal Cox and John Eastman play the two men in this first London run of Night, A Wall, Two Men. The play attracted a 4 star review at Brighton Fringe in 2009 with the same cast in place.
'Daniel Keene is a dangerous playwright… he works right on the moral edge' Sydney Morning Herald
Visit and scroll down our news page for production photos and press comments
THIS EVENT IS NOW FINISHED
19 November–1 December 2013, Tues-Sat at 9.30pm & Sun at 8.30pm
£12 (£10 concessions) including theatre membership
Running time 60 mins

Above the Oxford Arms, 150m from Camden Town tube
- John Eastman trained in Australia and, after teaching for Australian Theatre for Young People plus appearances on soaps such as Home and Away, moved to London in 1999. He toured extensively with Icarus Theatre's successful production of The Lesson. (Jury Prize, International Festival, Bucharest). Scenes from Hamlet (Tate Britain, Polonius), Support roles in New Writing at the Bussey Theatre for Odd Man Out Productions, Narrator 'Lights on Me' (New Diorama), UK tour Hamlet (Polonius, Icarus Theatre), Neuss Globe Shakespeare Festival, Germany (Banquo/Porter Icarus) and an assortment of short film roles eg as a drunkard, fraudster, assassin, priest, & comedian. A voiceover artist and workshop leader (National Theatre). MA in Education from CSSD, London.
- Dónal Cox trained as an actor at the Abbey Theatre, Dublin and worked at the Dublin Gate Theatre with the legendary Michael Mac Liammoir. Dónal has worked in West End theatres and further afield, in countless productions featuring the work of Irish writers. On RTE he has appeared in classical and modern drama, and as a presenter in the Irish language. In the UK he has played leading and featured roles on TV for the major channels, as well as in feature films. More recently seen on TV in the Ricky Gervais series 'Life's Too Short' and the film 'Round Ireland with a Fridge'. He can be seen in recently released feature 'The Double' (dir Richard Ayoade). Dónal is Co-Artistic Director of Fifth Province Productions CIC.

- Daniel Keene was born in Australia in 1955. His multi-award winning plays have been acclaimed throughout Australia, in the United States and Poland. Since the late 1990s he has established himself as one of Europe's most notable contemporary playwrights, with a particular following in France. He has won the South Australian Premier's Prize for Drama, the Victorian Premier's Prize for Drama (twice), the Wal Cherry Play of the Year, The New Dramatist's Award, New York and the 2000 NSW Premier's Prize for Literature (best play) three times.
© 2023 Fifth Province Productions