2017/18 - From the Fifth Province to London's West End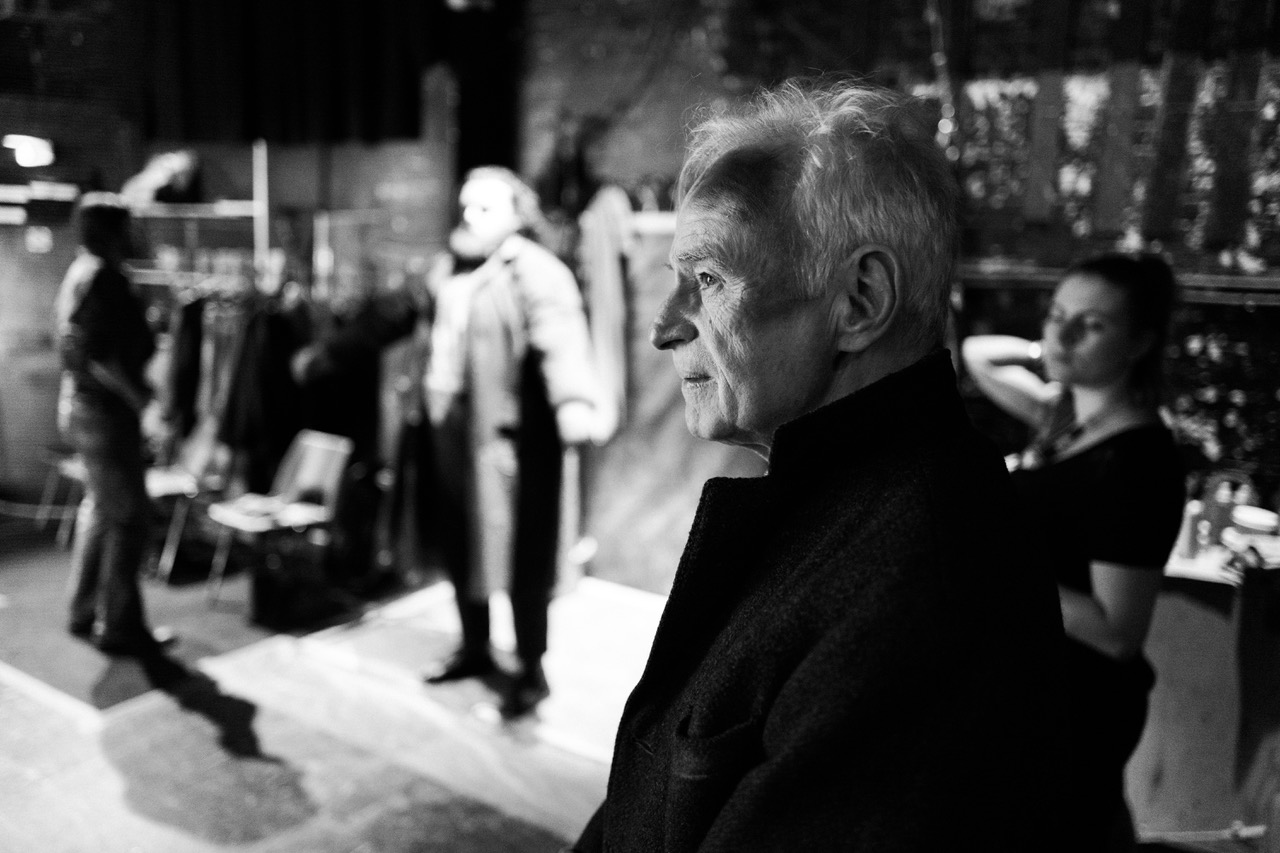 So many people are asking why we've been rather quiet lately. Pleased & proud to say it's because our own Donal Cox has been engaged as a member of the company that's bringing Jez Butterworth's The Ferryman Play to audiences in London's West End - to huge acclaim and a long list of 5-star reviews. It's keeping Donal busy til summer 2018. For now our own live work is on hold - with new projects in development. Enjoy some of Donal's recorded work in the meantime.
And a message from him, direct from the Gielgud Theatre, Shaftesbury Avenue:
"Waiting in the wings to go on as Uncle Pat Carney in The Ferryman (named Play of the Year) at the Gielgud. I'm a member of the #2 cast and have been on several times as the delightful Uncle Pat. Thrilled to be directed by Sam Mendes and Associate Director Tim Hoare."
Backstage photo credit: Ben Delfont, Stage Manager, The Ferryman
3 Nov - Not a play, not a concert: so what is 'Journey'?
When audiences tell us how much they've enjoyed Journey to the Fifth Province they sometimes also say they hadn't known quite what to expect. A few clues then about the show.

Take one distinguished actor with a wealth of stage and screen experience plus a voice that's rich and warm. Have him fill the stage with compelling stories, characters and humour brought to us by Ireland's renowned writers and poets.
Now add one of the UK's most thrilling and innovative harpists, known for her skill in bringing the harp out of the shadows and into the musical spotlight. That's the unique mix of the show.
This production just won't fit into a pigeonhole. More than a one-man show, you could say Journey delivers two for the price of one! And it has toured widely, with backing from Arts Council England, to enthusiastic reception from both press and audiences:
- 'remarkable and entertaining… professional theatre that's truly enriching' Irish Times
- 'a spellbinding storyteller… a superb performance on the harp' Ilkley LitFest blog
- 'startling and rewarding - don't miss this! 5 stars' Remotegoat reviews
- 'ingenious, uplifting… a real privilege to see' Director, Seven Arts, Leeds
Early booking recommended at The Hawth Studio – one night only, 14 November
Tickets £10 (£7 Hawth Friends)
30 Oct - Return to Crawley: Journey comes full circle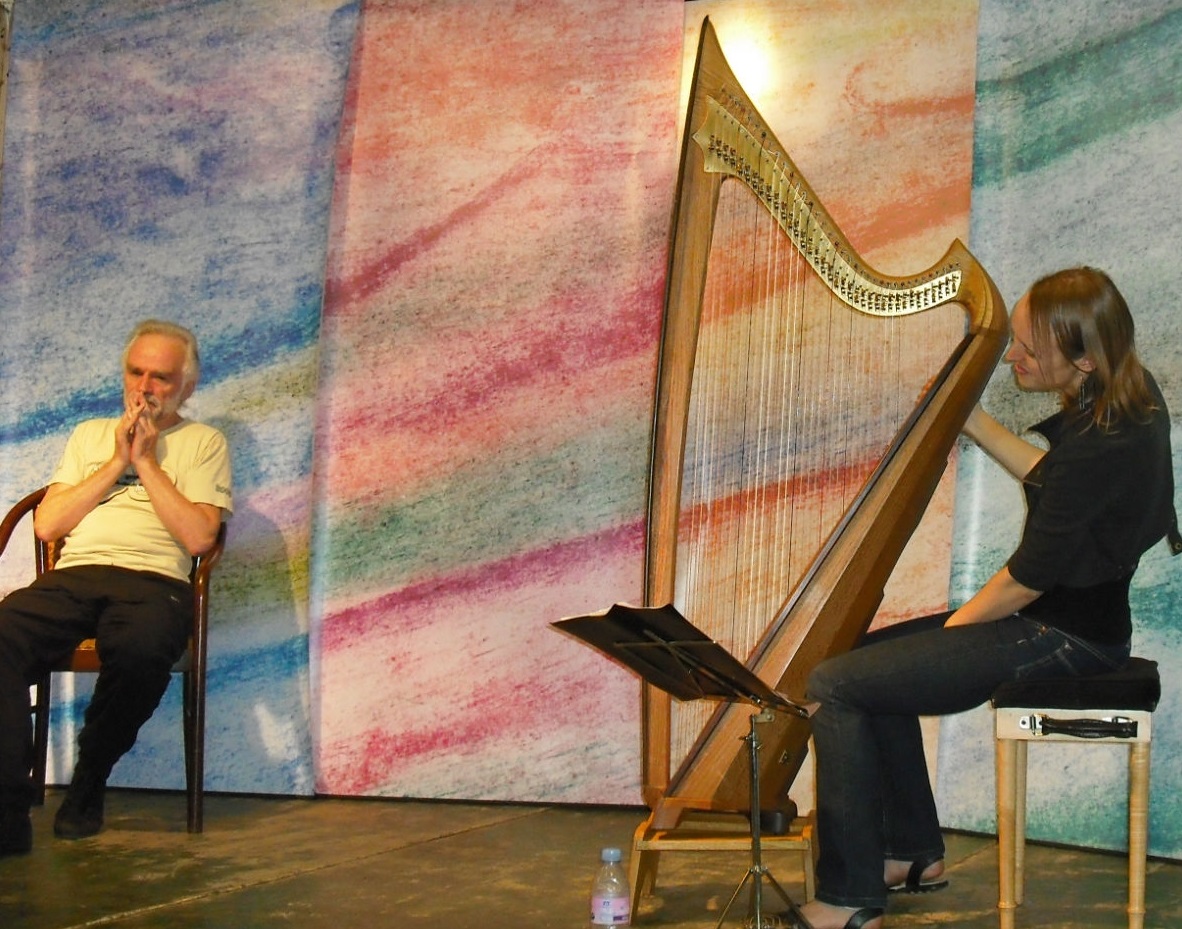 Early work on Journey - the development phase. We've come a long way!
You may not know it but the community in Crawley, West Sussex, played a leading role in the creation of Journey to the Fifth Province, the show that has been our signature piece of work. The production has gone from strength to strength touring and delighting audiences across the country. Now, coming full circle, the acclaimed and much loved show will play at The Hawth Studio on Sat 14 November, 7.45pm. The occasion will be a special one because it will complete a story - and a journey - begun in Crawley back in 2004.
An early version of the show, called Come Sit By My Fire, started life at the first ever Crawley Fleadh. A capacity audience responded with enthusiasm and heart-felt applause. A senior gentleman's summing-up inspired Dónal to develop the show: "We should have more of this!"
Since those small beginnings the show has toured to 30 destinations - theatres, arts centres and community venues, book festivals and UK Irish festivals. The performance at the Hawth will be presented as a Crawley Fleadh event sponsored by the Celtic and Irish Cultural Society.
Tickets £10 (£7 Hawth Friends)
12 Oct - Sell out audience at BookFest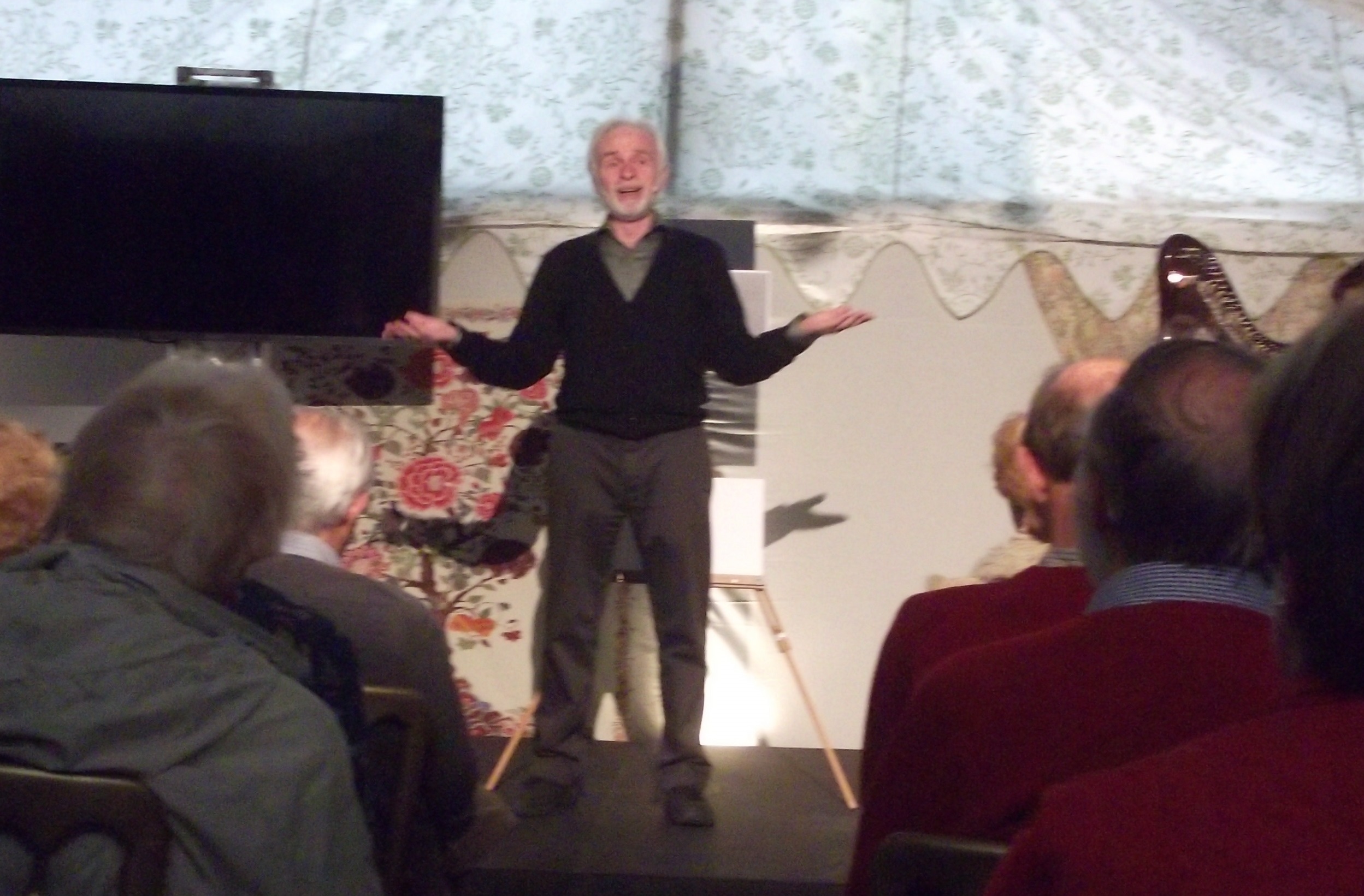 The lightning crackled at Wimbledon BookFest on Saturday as a sell out audience packed the William Morris tent for Yeats by Lightning. Dónal and Gina - she's there, on the right! - together startled and delighted our audience with an illuminating visit to the life, times, and imagination of William Butler Yeats.
2 Oct - Partnership with Irish Consulate & Allied Irish Bank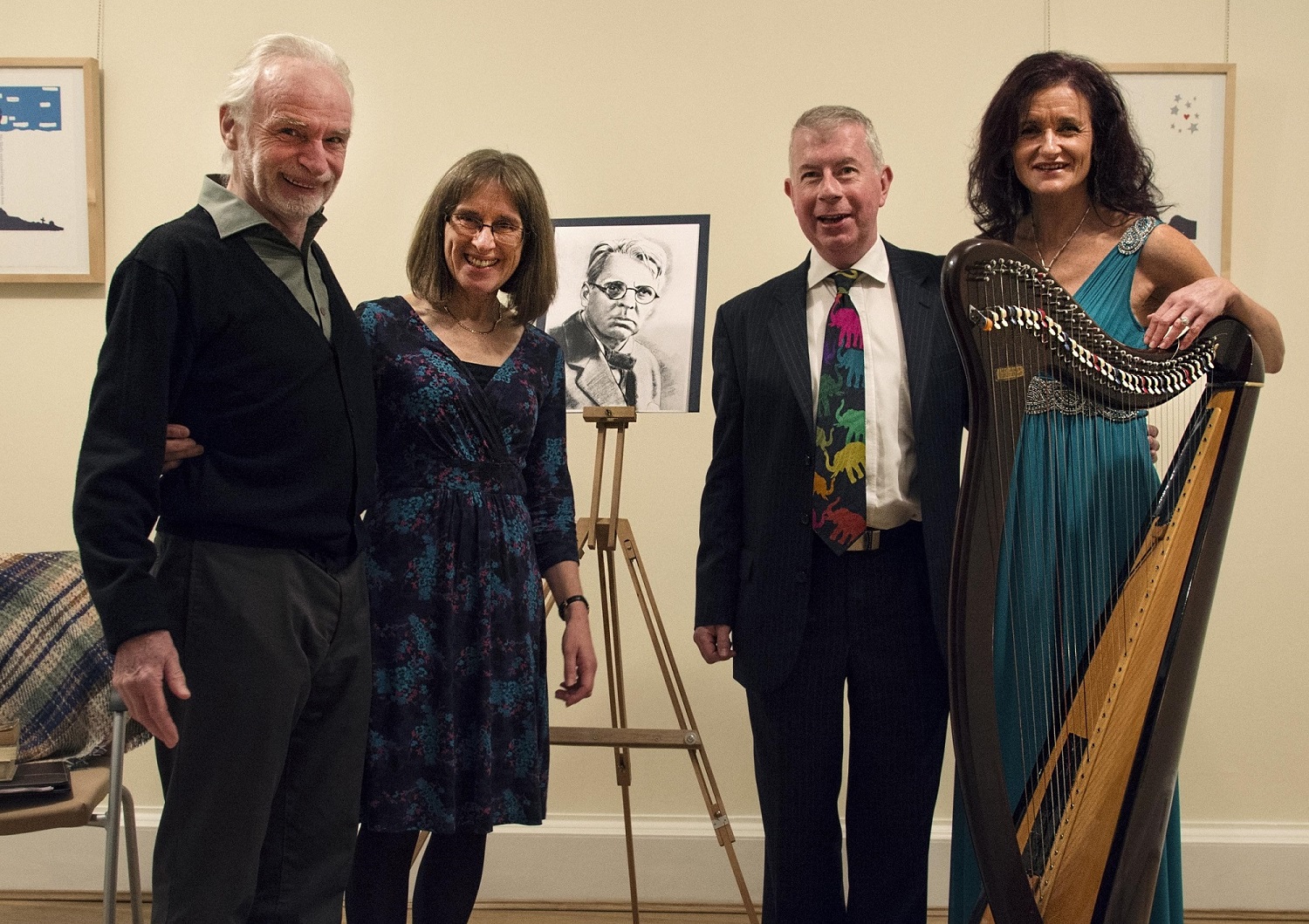 At the Consulate General of Ireland, the launch performance in Scotland of Yeats by Lightning, Sept 2015.
An event generously hosted by the Consul General Pat Bourne, and his team, made possible by enlightened sponsorship from the Edinburgh branch of Allied Irish Bank (GB). Our thanks to AIB Branch Manager Andrew McGeorge, his staff, and clients of the bank, for supporting the event, and for sharing with us valuable feedback about the show.
Read the Consulate news item about our event
Photo: www.graceaveryphotography.co.uk
27 July - Bringing Yeats alive at BookFest
Thrilled to announce that we're once again appearing at Wimbledon BookFest in October. We're delighted to have been asked back following our highly successful and well attended performance of Journey to the Fifth Province at last year's BookFest.
This year we're marking the 150th anniversary of W B Yeats with Yeats by Lightning, our original and inspiring celebration of the man and his work that crosses boundaries between literature, storytelling, music and theatre.
Taking its form from Ireland's classical pairing of bard and harpist, our event brings alive a selection of Yeats' poetry as it arises from the rich narrative of his life. Tickets available for our spot, in the lovely William Morris Tent on Wimbledon Common, Sat 10 October, 4.30pm
Actor Dónal Cox trained and worked with the Abbey Theatre, Dublin - Ireland's national theatre - founded by Yeats in 1904. Here Dónal leads a celebration of the Nobel Laureate's outstanding gift to Irish, Anglo-Irish and world literature.
We give a warm welcome to award-winning musician Gina Mackey, collaborating with us for the first time, whose Celtic harp accompaniment highlights the 'word-music' of Yeats' remarkable writing.

30 June - Moving forward with Irish arts in Britain
A valuable meeting today, hosted by Irish in Britain, bringing together arts and culture practitioners with officers from Arts Council England and Voluntary Arts England.  Experiences shared, and some robust discussion of how to strengthen the arts and culture offer made by, within, and for Irish communities in the UK.
23 April - Celebrating World Book Night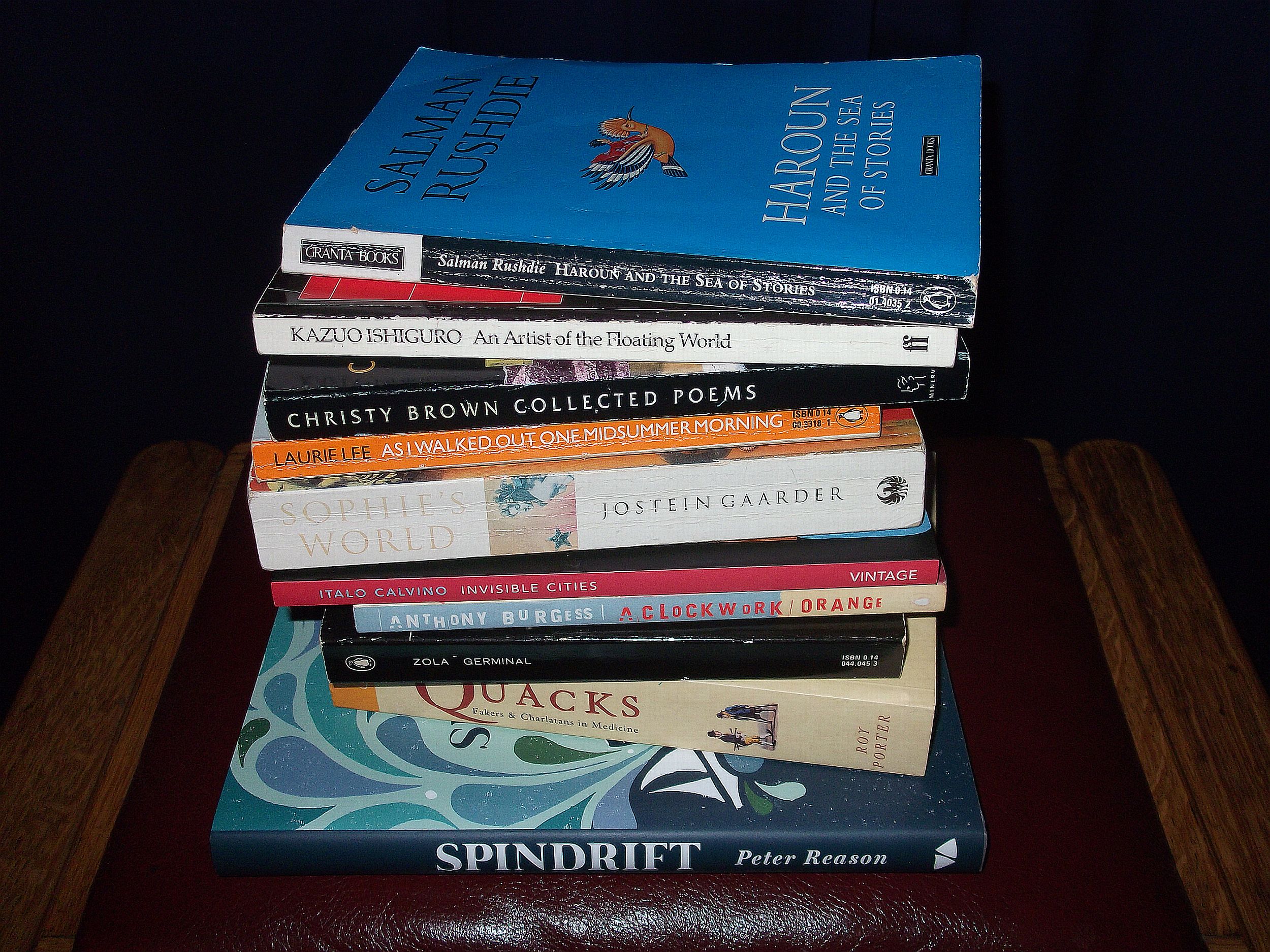 Been celebrating World Book Night here with a micro performance.  An intimate evening of linked readings from books by world greats: Rushdie, Calvino, Zola, Ishiguro, Gaarder and more.  Poetry and prose, fantasy and fact - we've travelled the globe powered by words and ideas alone.  Look.. no carbon footprint!
10 Apr - Dónal's BFI Film Academy screening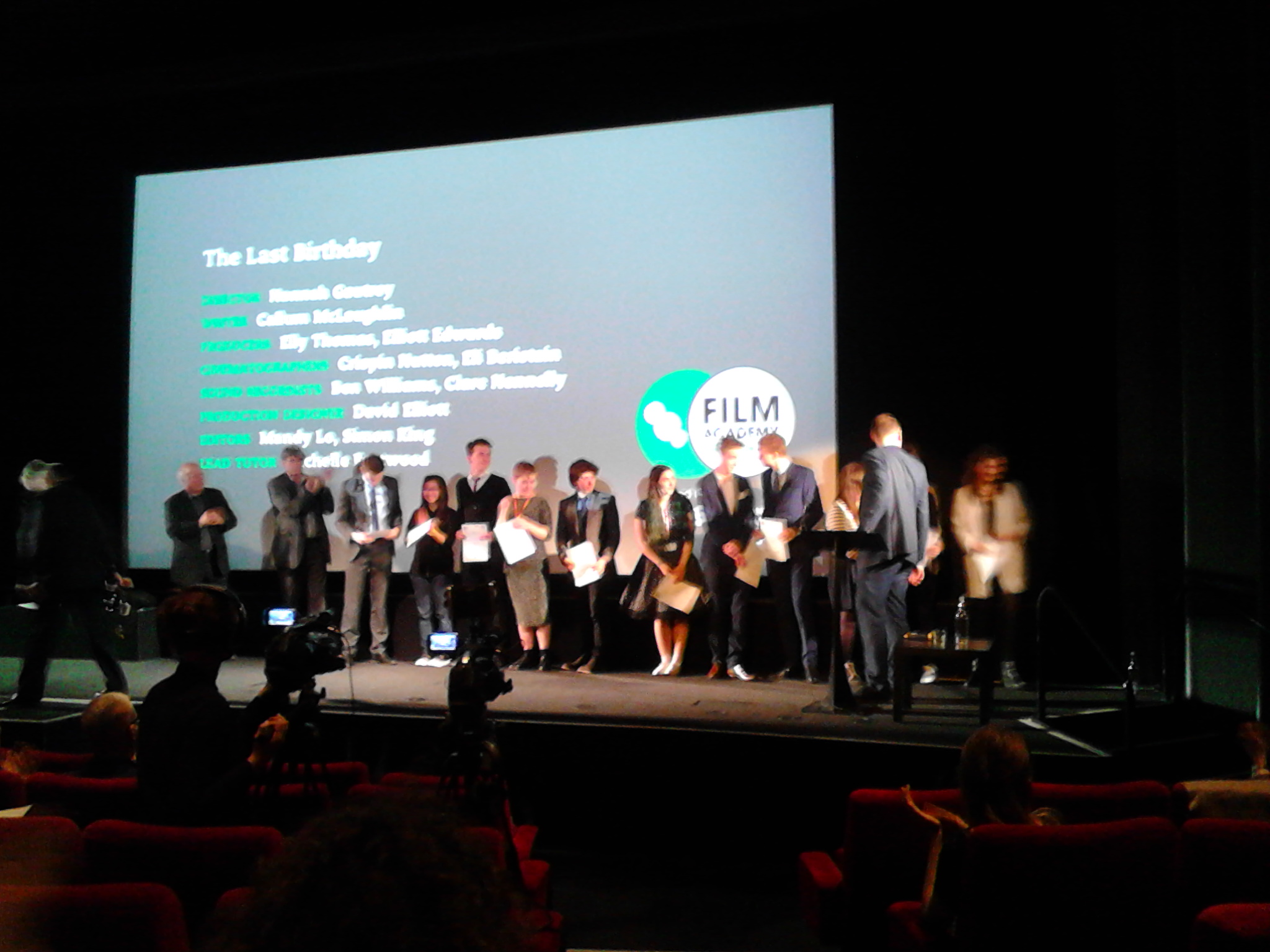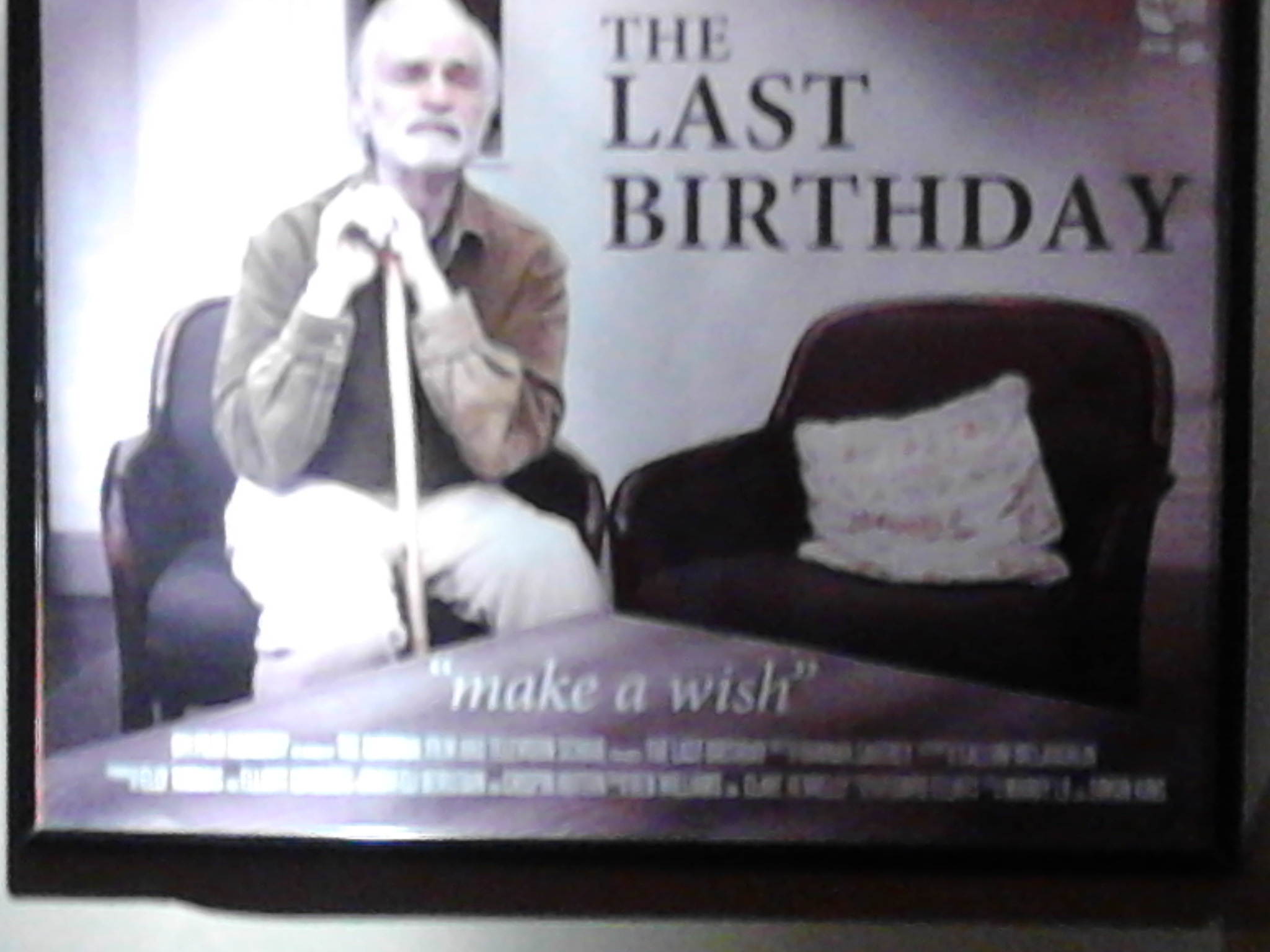 An honour to be present at yesterday's BFI Film Academy event, a screening of six outstanding short films by young film-makers aged 16-19.
Cast as the lead in one of them, The Last Birthday, Dónal brought to the team his wealth of experience as a screen actor.  He reports being very favourably impressed by the crew's mature approach and focus throughout the shoot, which marked the culmination of a film-making craft skills intensive residential programme.  (We'll share a link to the film as soon as it's available!)
The Academy is a collaborative venture between BFI and the National Film and Television School to support and develop the enthusiasm and skills of future film professionals.  At yesterday's event BFI Chair, Greg Dyke, and NFTS Director, Nik Powell warmly addressed the students and their guests before presenting certificates to confirm the young people as graduates of the BFI Film Academy.
Congratulations to all on an energised event reflecting a programme - and no doubt a UK film future - of which we can be proud.
31 March - Listening in with Martin Dyar
Thank you to the Irish Literary Society for hosting this evening at the Bloomsbury Hotel, London in the company of poet Martin Dyar. And thank you to Martin, who read from his 2013 volume 'Maiden Names' and talked with the audience about his work, its origins, and what catches his ear.
Listen to him reading his work here on Soundcloud.
11 March - Show on 13 Mar CANCELLED
** URGENT ANNOUNCEMENT  -  Disappointing news that our performance for Coventry Irish Society on 13 March has had to be cancelled.  Apologies to all who were planning to attend.  We aim to reschedule later in the year. **